Traffic Enforcement and K-9 Unit:
Contact Information: (617) 394-2447 or Email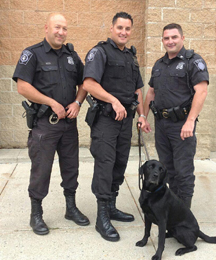 The Traffic and K-9 units assist patrol units in calls for service but are also engaged in other duties. Traffic personnel conduct selective traffic enforcement in neighborhoods, truck inspections for faulty equipment and overweight vehicles, escorts for a variety of events, investigate hit and run crashes, coordinate sobriety checkpoints, DDACTS (Data Driven Approaches to Crime and Traffic Safety) patrols, coordinate crossing guard assignments, and perform educational outreach within the community. The K-9 unit consists of three handlers with an assigned dog trained in a variety of functions. Two K-9 teams are used for patrolling, tracking (lost persons or fleeing felons) and drug detection. The other K-9 team is used for the detection of explosives and/or firearms evidence recovery. The K-9 unit operates mutually with surrounding cities and towns to enable 24- hour coverage during their off hours.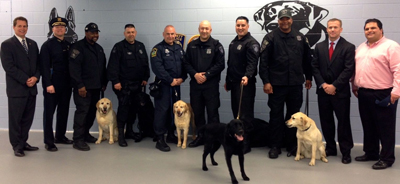 In addition to their regular duties, the K-9 Explosion Detection Unit responds to calls for service specifically for the recovery of guns and shell casings. They also conduct K-9 demonstrations at events such as National Night Out, area schools, and the Junior Police Academy. The K-9 Unit is called to conduct bomb sweeps at businesses, schools, and other high profile locations such as the July 4th Festivities on the Esplanade, and the T.D. Bank North Garden. The Patrol/Drug K-9 Sergeant also responds to calls for narcotic and patrol searches in addition to his regular duties. The K-9 teams work with over a dozen municipal and state agencies including US Marshalls, DEA, and ATF during the course of a year. Various amounts of heroin, cocaine, marijuana get seized from the streets of Everett and surrounding communities. Throughout a year, numerous motor vehicles are seized in conjunction with drug units with some of the motor vehicles containing drug hides.